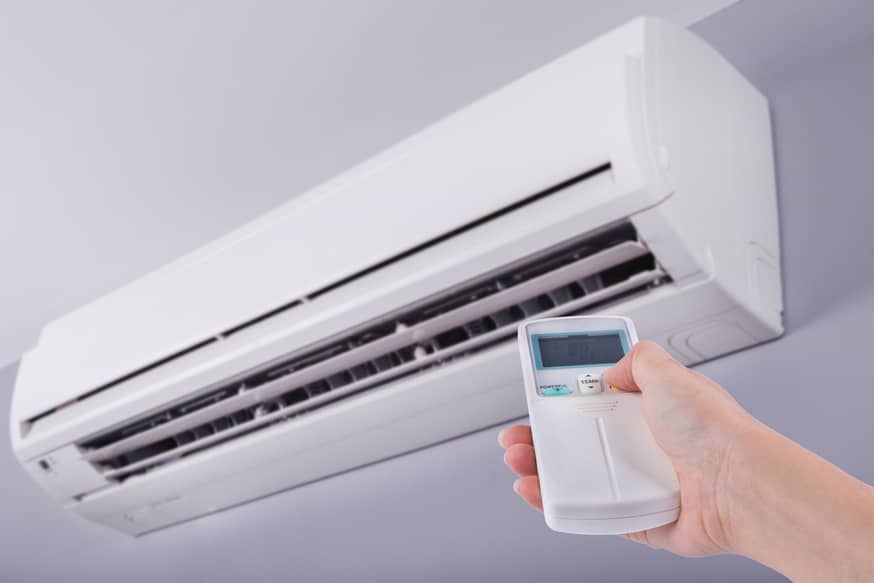 Choosing an air conditioner can be overwhelming, so we hope that this post sheds some light on how you can choose the best option for your home. If you have any questions about which air conditioner is the best choice for your needs, don't hesitate to contact our aircon experts today.
Types of Air Conditioner
There are three main types of air conditioner that you can choose from – split system, multi-split system or ducted.
Split System
Split system air conditioners are ideal for compact spaces and heating or cooling individual rooms in your home.
What is a split system? Basically, a split system air conditioner is designed for individual areas in your home – for example, you may only want aircon in your main bedroom or living area, as opposed to it being throughout your entire home. With a split system, the compressor is installed outside your house and the unit that passes air into the house is either a compact floor-standing unit or discreetly wall-mounted. There are two main advantages of split system aircon:
Economical – you are only buying and installing one unit at a time. These systems also use less energy than some other systems
Selective – you choose the rooms you would like to air condition.
Multi-Split System
With a multi-split system, you can run multiple air conditioners with just one outside compressor, which gives you independent temperature control over each room. You get to choose which rooms have aircon, and the type of aircon unit for each room. There are three main benefits of a multi-split system:
Convenient, economical and comfortable – you can live is maximum comfort with minimum cooling costs (because you can run each unit as you need)
With just one outside compressor, you can choose up to 5 different indoor units for your rooms (including wall-mounted, duct-connected, floor-standing, ceiling-suspended or a cassette-type unit)
Everyone is happy – with separate units and controls, you can tailor and control the climate in each room.
Ducted
Want your entire home to be the ultimate comfort zone? Ducted air conditioning provides all-in-one climate control. All ducted aircon takes is a discreet outdoor unit and an indoor unit (concealed in our ceiling or under your floor), with flexible ducting that distributes cool or warm air via vents throughout your home. There are five main advantages of ducted systems:
Can be tailored for/installed into a new or existing home
Discreet – inside, only the controller and grilles are visible and all the technology is hidden away
The quietest of all aircon systems
Will add to the value of your home
You can enjoy the flexibility to heat or cool every room and you can zone-control the home to maximise energy efficiency.
Choosing the Right Air Conditioning Capacity
An air conditioner's cooling and heating capacity (size) is rated in kilowatts (kW). A small room may require a 2/5kW model, whereas a larger, open-plan room might need 6kW or more. Before you have air conditioning installed, make sure that you are certain of the capacity you require (need a hand? Contact Electrolite). A proper calculation of the capacity you need will take the following into account:
The size of the room – length, width and height
The type of room – living room, kitchen, bedroom, etc.
The size and orientation of windows and glass doors (a large window can let in a lot of heat in summer)
Shading and curtains on the windows
Insulation of the floor, ceiling, and walls
The local climate.
Once you have decided on the general type and capacity of your air conditioner, you will also need to consider whether to choose an inverter or non-inverter model, and whether to go for cooling, heating or both (there will be more information about this in our next post!).
Contact Electrolite
If you have any questions about choosing the right air conditioner for your needs (or if you have found it and require installation), don't hesitate to contact our friendly and experienced team today.