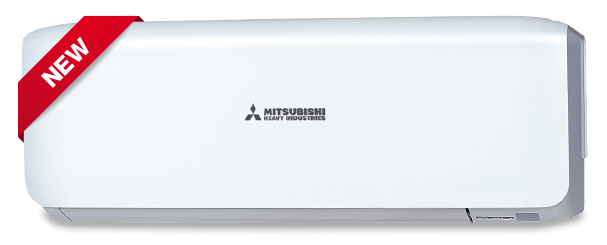 Electrolite have supplied and professionally installed air conditioning units in the Brisbane area for some time. We supply AC units from brands such as Daikin, Mitsubishi, Fujitsu, Panasonic, Teco and Actron, and keep a close eye on new AC releases.
A new Mitsubishi Heavy Industries AC has hit the market. The Avanti model is stylish, advanced and versatile enough to suit a range of residential properties, as we explain:
The New Avanti Residential Range
Avanti is a new Mitsubishi Heavy Industries AC that looks to combine versatile functionality with a modern appearance. Mitsubishi is synonymous with reliability and technological advance, and the Avanti model is packed with innovative features.
Avanti features a one-touch program known as 3D AUTO. In simple terms, this means that multiple motors work to deliver three different air flow controls. This programmed air distribution is energy efficient, and allows air to flow into every corner of the room effectively.
Clean Air and Jet Air Technologies
This latest Mitsubishi Heavy Industries AC boasts an innovative feature for allergy sufferers. The Allergen Clear System neutralises all bacteria present on the anti-allergenic filter at the push of a button, allowing clean air to be delivered for 90 minutes.
The air circulation potential of the Avanti has been achieved by way of Jet Air Technology. By using the same aerodynamic analysis tools employed to develop jet engines, MHIAA have been able to design air channels that evenly spread air throughout a room.
Modern Appearance from Italian Designer TENSA
The Avanti unit features Japanese technical quality, combined with aesthetic appeal thanks to Milanese designers TENSA. The rounded contours and elegant appearance will fit perfectly in any modern residential setting. The design is simple and streamlined, with few buttons or visible features detracting from the lines of the unit.
Use Wi-Fi to Set the Temperature Before You Return Home
Ever dreaded the blast of heat you get when returning to your empty home in the Queensland summer? The Avanti range features Wi-Fi Control, allowing you to use your smartphone or other device to turn your AC on before you return home, as well as check if you've remembered to turn the unit off once you've already left.
A Feature-Packed Reverse Cycle Unit
The Avanti is packed with more features for comfort and convenience than we can mention. The range features Dry Operation and High Power Operation, which allows for dehumidification of the air and accelerated cooling speed respectively. Units also feature Self Clean Operation which prevents mould growth, in addition to an Economy Mode which provides effective cooling and heating while conserving energy.
Air Conditioning Service and Installation from Electrolite Electrical Services
Mitsubishi Heavy Industries have been producing quality air conditioners for the Australian and New Zealand market since the 1970s, and the Avanti range lives up to their reputation.
To secure the services of Electrolite for air conditioning service Brisbane or installation of an Avanti model, get in contact today. You can make an enquiry using our online contact page, or give us a call on 07 3712 0653.
The Mitsubishi Heavy Industries AC comes with a five-year parts and labour warranty.
---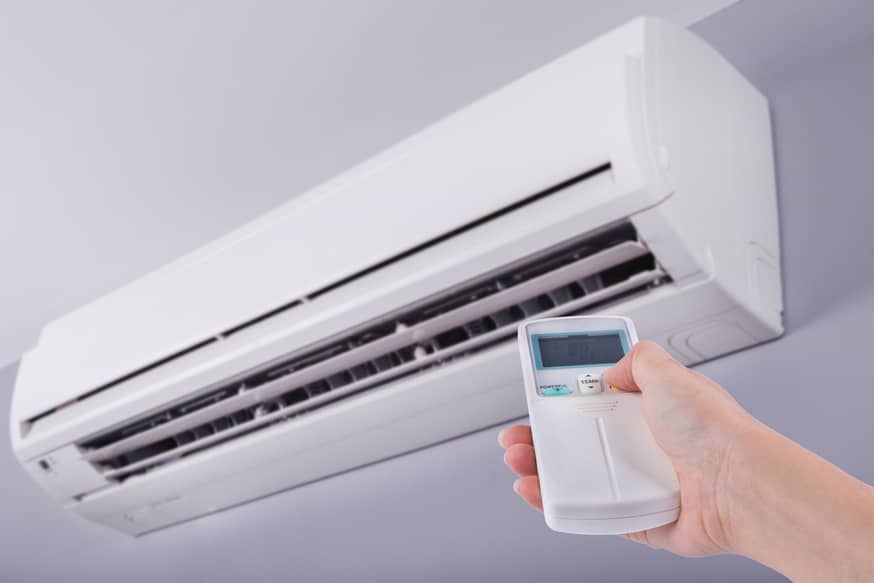 Choosing an air conditioner can be overwhelming, so we hope that this post sheds some light on how you can choose the best option for your home. If you have any questions about which air conditioner is the best choice for your needs, don't hesitate to contact our aircon experts today.
Types of Air Conditioner
There are three main types of air conditioner that you can choose from – split system, multi-split system or ducted.
Split System
Split system air conditioners are ideal for compact spaces and heating or cooling individual rooms in your home.
What is a split system? Basically, a split system air conditioner is designed for individual areas in your home – for example, you may only want aircon in your main bedroom or living area, as opposed to it being throughout your entire home. With a split system, the compressor is installed outside your house and the unit that passes air into the house is either a compact floor-standing unit or discreetly wall-mounted. There are two main advantages of split system aircon:
Economical – you are only buying and installing one unit at a time. These systems also use less energy than some other systems
Selective – you choose the rooms you would like to air condition.
Multi-Split System
With a multi-split system, you can run multiple air conditioners with just one outside compressor, which gives you independent temperature control over each room. You get to choose which rooms have aircon, and the type of aircon unit for each room. There are three main benefits of a multi-split system:
Convenient, economical and comfortable – you can live is maximum comfort with minimum cooling costs (because you can run each unit as you need)
With just one outside compressor, you can choose up to 5 different indoor units for your rooms (including wall-mounted, duct-connected, floor-standing, ceiling-suspended or a cassette-type unit)
Everyone is happy – with separate units and controls, you can tailor and control the climate in each room.
Ducted
Want your entire home to be the ultimate comfort zone? Ducted air conditioning provides all-in-one climate control. All ducted aircon takes is a discreet outdoor unit and an indoor unit (concealed in our ceiling or under your floor), with flexible ducting that distributes cool or warm air via vents throughout your home. There are five main advantages of ducted systems:
Can be tailored for/installed into a new or existing home
Discreet – inside, only the controller and grilles are visible and all the technology is hidden away
The quietest of all aircon systems
Will add to the value of your home
You can enjoy the flexibility to heat or cool every room and you can zone-control the home to maximise energy efficiency.
Choosing the Right Air Conditioning Capacity
An air conditioner's cooling and heating capacity (size) is rated in kilowatts (kW). A small room may require a 2/5kW model, whereas a larger, open-plan room might need 6kW or more. Before you have air conditioning installed, make sure that you are certain of the capacity you require (need a hand? Contact Electrolite). A proper calculation of the capacity you need will take the following into account:
The size of the room – length, width and height
The type of room – living room, kitchen, bedroom, etc.
The size and orientation of windows and glass doors (a large window can let in a lot of heat in summer)
Shading and curtains on the windows
Insulation of the floor, ceiling, and walls
The local climate.
Once you have decided on the general type and capacity of your air conditioner, you will also need to consider whether to choose an inverter or non-inverter model, and whether to go for cooling, heating or both (there will be more information about this in our next post!).
Contact Electrolite
If you have any questions about choosing the right air conditioner for your needs (or if you have found it and require installation), don't hesitate to contact our friendly and experienced team today.
---
The five things you must know this summer
In South East Queensland, summer seems to arrive earlier every year! And that means it's more important than ever to make sure you have the right split system air-conditioner installed for your home.
Get the wrong split system installed, and you could be paying for the decision for years. Higher power bills, inefficient heating and cooling, and an air-conditioner that works harder than it needs to (resulting in a shorter service life) are just some of the problems that can commonly occur.
So how do you go about choosing the right split system for your needs? We asked the Electrolite team to share their top five tips for finding the right air-conditioner for summer.
1. Consider EVERY aspect of the room you want cooled
Just about every air-conditioner installer will take into account the size of the room you want cooled. But there's a lot more involved in getting the ideal split system for your needs.
It's important to take an in-depth look at your situation, and consider every variable of the room to be air-conditioned. For example, air-conditioning installers should look at the aspect of the room – if the main wall faces west your air-conditioner will tend to use a lot more energy to cool the room in the afternoon sun.
We'll think about the number of windows in the room and even whether you have curtains, to calculate how much energy is lost through your windows. And we'll talk to you about the way you live in both summer and winter, to ensure you get a reverse cycle system that will keep you comfortable all year round.
2. Get advice from a qualified electrician
There are good reasons why it pays to choose a qualified electrician to install your air-con. For example, if you're installing a brand new air-conditioner in your home, it will add an additional burden to your home's switchboard. Is it capable of handling the extra load?
As qualified electricians, the Electrolite team can assess your existing switchboard and advise you on whether it is sufficient to safely handle the new electrical load, or whether you would be better off having a new switchboard installed.
3. Consider the placement of indoor and outdoor air-con units
Of course, a split system air-conditioner uses an indoor and an outdoor unit – and both of them will benefit from a little care and thought before installation.
For example, your outdoor air-con unit should be positioned so that noise doesn't unnecessarily impact your neighbours. Wall mounting the outdoor unit at least 2 metres off the ground gives room to sweep or hose beneath. 
Inside your home, it's important that the indoor air-on unit is installed neatly, straight and level, with its filters easily accessible for maintenance. All these little things can add up to make a big difference to the liveability of your home.
4. Choose the right brand of air-conditioner for your needs
Our Electrolite air-con installers have wide experience with all brands of air-conditioner. We'll be happy to advise you on which air-con brands offer the best efficiency, reliability, and effectiveness for your home.
While we supply and install all air-conditioner brands, we are happy to recommend Mitsubishi Heavy Industries as a consistent performer across all these criteria. Talk to Electrolite to find out more.
5. Look for an air-con installer with real attention to detail
Your home's split system air-conditioner is a long-term investment. So when you're having it installed, it pays to do the job right and work with proper attention to detail.
Things like correctly installing the air-conditioner drain into your home's downpipe, or making use of a plumbing tundish to ensure that waste water can't re-enter the air-con system. Or taking into account the prevailing winds around your home, so that your air-conditioner fans don't have to work harder than they have to.
Talk to Electrolite to find your ideal split system air-conditioner
For advice and assistance on finding the ideal split system air-conditioner for your home, talk to the experienced Electrolite team. We will be happy to come to your home to carry out an in-home inspection, and advise you on the best air-conditioning solution for your needs.
Call Electrolite on 3712 0653 or get in touch today using the form below.
---